Key Features
Speeds drying time when applied
Produces a premium, high luster appearance
Improves seed flowability and reduces seed bridging to reduce skips and doubles during plant spacing
Little to no need for talc or graphite at planting time
Compatible with Sensient seed coating colorants and commonly used inoculants, insecticides, and fungicides
Compliant with the inert ingredient regulations for seed treatment applications required by EPA regulation 40 CFR 180
Available in many colors
Applications
Row crop (corn, soybeans, wheat, cotton, sorghum, rice)
Vegetable seed
Grass seeds
Forage and botanical seeds
Red soybeans before and after application of PearlMaxx™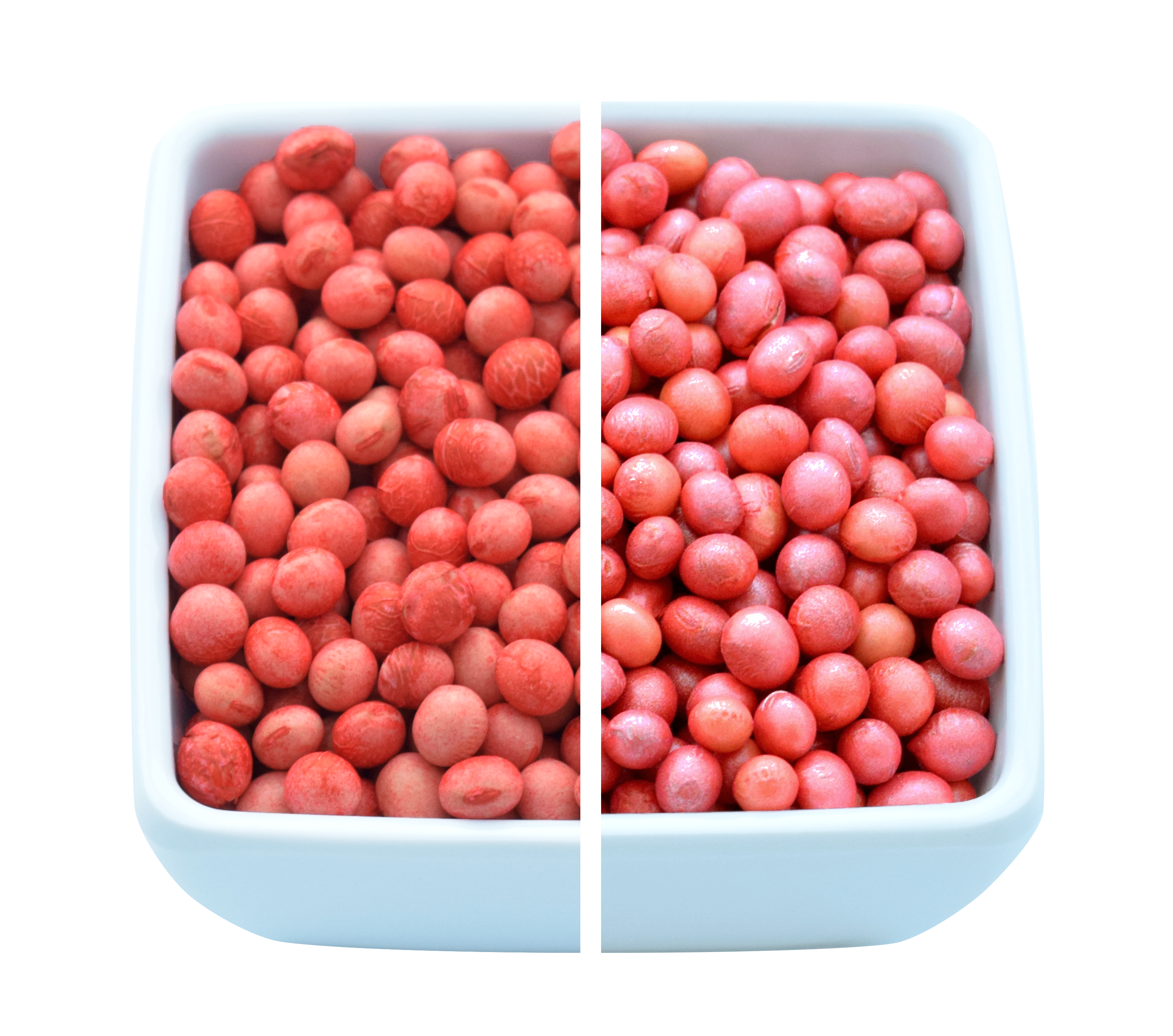 See also:
SensiCoat™ - offers a full palette of vibrant, customizable, 40 CFR part 180 compliant seed coating color solutions, to help you create a unique hue for your brand. SensiCoat is used in seed coating applications and can provide superior color consistency across a wide range of seed varieties, including row crop, vegetable seed, grass, forage and botanical seeds.
See our SensiCoat™ page for further information
SensiCoat™ StayFast™ - Water-based, fast-drying polymer coatings lock valuable active ingredients to the seed, to reduce dust off of those ingredients.
Compatible with SensiCoat™ and SensiCoat™ Plus seed coating colorants and commonly used inoculants, insecticides, and fungicides
Enhances flowability and handling of seeds
Formulated to improve dispersion of colorants and active ingredients
Designed to form a smooth seed surface to reduce skips and doubles during plant spacing
Compliant with the inert ingredient regulations for seed treatment applications required by EPA regulation 40 CFR 180
Read more on SensiCoat™ StayFast™